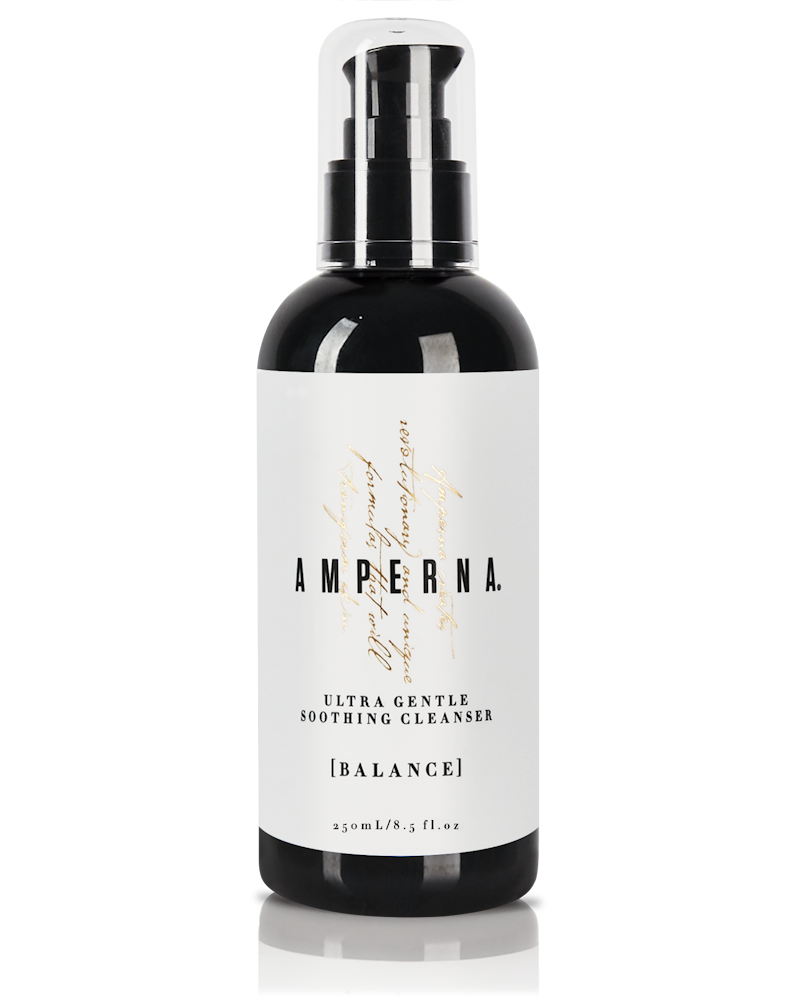 [BALANCE]
Ultra Gentle Soothing Cleanser 250ml
Size: 250mL
This ultra gentle formulation rinses clean and helps remove makeup while balancing the skin.
AMPERNA® Ultra Gentle Soothing Cleanser is a gel that is activated by water - it is refreshingly gentle and lathers to a fine foam. It rinses clean without leaving an irritating residue or upsetting the skin's pH levels.
Also available in a 125ml size here
AMPERNA® Ultra Gentle Soothing Cleanser [BALANCE] is a light gel cleanser that helps remove makeup while balancing the skin. This ultra gentle formulation rinses clean without leaving an irritating residue or upsetting pH levels. It contains an infusion of sage and cucumber extracts to help cool, soothe and nourish skin. The AMPERNA® range is suitable for all skin types and has been tested on eczema, dermatitis, perioral dermatitis, rosacea and acne prone skin.
Non-comedogenic. No nasties, tested on real people, Australian made and owned.
Need more help using AMPERNA® products? Visit our detailed regime page to download instructions for your bathroom.

Dampen face, dispense 2-3 pumps of cleanser into wet hands and work together. Apply using circular motions to massage thoroughly. Rinse well with water. Repeat if necessary.
Caution - For topical external use only. Avoid direct contact with eyes and broken skin. Everyone's skin is different so we recommend you undertake a spot test in a small, discreet area to test for adverse reactions. In the rare event of an adverse reaction discontinue use.

Store below 30ºC out of direct sunlight.

Need more help using AMPERNA® products? Visit our detailed regime page.
Aqua, Epilobium Angustifolium Flower/Leaf/Stem (Canadian Willowherb) Extract, Salix Alba (White Willow Bark) Extract, Betaine, Sodium Lauroamphoacetate, Disodium Cocoamphodiacetate, Cocamidopropyl Betaine, Glycerine, Panthenol (Vitamin B5), Cucumis Sativus (Cucumber) Fruit Extract, Allantoin, Cucumis Sativus Seed (Cucumber) Oil, Salvia Officinalis (Sage) Oil, Acrylates/C10-30 Alkyl Acrylate Crosspolymer, Polysorbate-20, DMDM Hydantoin, Iodopropynyl Butylcarbamate.
Rest assured, AMPERNA® products include high percentages of actives so you can feel confident you are doing the best for your skin.
Does not Include Sulfates, Parabens, Petrochemicals and Mineral Oils, Vinyls, Phthalates, Phenoxyethanol, Synthetic Fragrance, Synthetic Colours or Bleaches, PPG, DEAS, TEA, Aluminium or Alumina.
Ingredients Explained
White Willow Bark
is an organically cultivated plant extract that provides astringent, antiseptic and anti-inflammatory effects for cleansing.
Ingredients Explained
Canadian Willowherb
contains bioactive molecule of oenothein B which helps to soothe acne-prone skin and helps reduce skin redness.
Ingredients Explained
Vitamin B5
acts as an anti-inflammatory and helps soothe irritated skin.
Disappointed
I am really sorry to say that I am very disappointed with this product, which was recommended to me by a person with prior problem skin. I have rosacea with pustules which unfortunately has spread even further over my face since using this product in May 2023 (for over 3 months). This has been commented on by my family who see me on a regular basis. I have also eliminated certain foods from my diet (dairy, wheat, rice and potatoes) and am taking supplements to no avail!
Hi Dragan,
We are sorry you haven't enjoyed the Ultra Gentle Cleanser.
We do suggest you patch test everything before you start:
https://amperna.com/pages/patch-testing-guide
However for flared rosacea, we do recommend starting with our Soothing Duo and cool water only rather than introducing our Cleanser straight away.
There are four subtypes of rosacea:
https://amperna.com/blogs/news/rosacea-understanding-4-types-causes-treatment
It sounds like you could have subtype 2 rosacea.
True rosacea is an immune modulated concern that needs to be managed ongoing. Based, at this time, on medical and scientific research it is thought to result from a combination of immune system dysregulation, abnormal neurologic and vascular signalling and dysbiosis of microorganisms leading to skin sensitivity and inflammation.
So you need to use the right skincare and you also need to avoid all rosacea triggers ongoing - these include psychological triggers, as well as many environmental triggers - not just food triggers. Subtype 2 is also often linked to demodex overgrowth - so a proper diagnosis and a management plan needs to be set in place to help you with this as well.
Kiri helps people with rosacea with our products, but also via holistic coaching:
https://amperna.com/products/holistic-skin-coaching
We are here to help via email (info@amperna.com) before and after your purchase.
AMPERNA® Customer Service
Amperna has changed my skin!
I have spent thousands over the years trying to find the right products for my acne prone skin. In April I purchased Amperna's Ultra Gentle Soothing Cleanser, Lightweight Soothing Emulsion, and the Probiotic + DS Soothing Serum after seeing an add on Instagram. I noticed a huge change in my skin within weeks, with my acne clearing up, the texture of my skin improving significantly, and my skin remaining consistently clear for the first time in probably 15 years. I recently ran out of my Amperna products and used other products for about a week, and of course my acne flared up for the first time in months. I quickly repurchased my Amperna products and weeks later my skin is clear again. This stuff is amazing, and I am beyond happy to have finally found a product that suits my skin, is reasonably priced and is made with safe, quality ingredients. I can't wait to add more Amperna products to my skincare regime!
Amazing Cleanser
My skin has been so temperament since having children. I've tried so many cleansers in the hope of clearing it up, but none have worked as well as this one! It's light, easy to use and doesn't leave my skin feeling dry or oily. I now have fairly even, blemish free skin. Love this product.
These products are a life saver!
I have been dealing with perioral dermatitis on my face for 4-5 years now, misdiagnosed and treated with steroids, got put on antibiotics for 6 months at a time as I got so desperate. Then I decided to go cold turkey with all other treatments and used the duo bundle for a few months which helped, then as soon as I added the exfoliate into my regime my face hasn't looked this good for years! I am so grateful to find these products as I can feel confident in my own skin again! 100% recommend but it does take time, will not resolve over night.
Best cleanser ever
This gentle, non drying but cleansing cleanser work's incredibly well.
I've never been a fan of cleansers as they are too drying, too oily or don't smell good.
This cleanser is a 10/10.