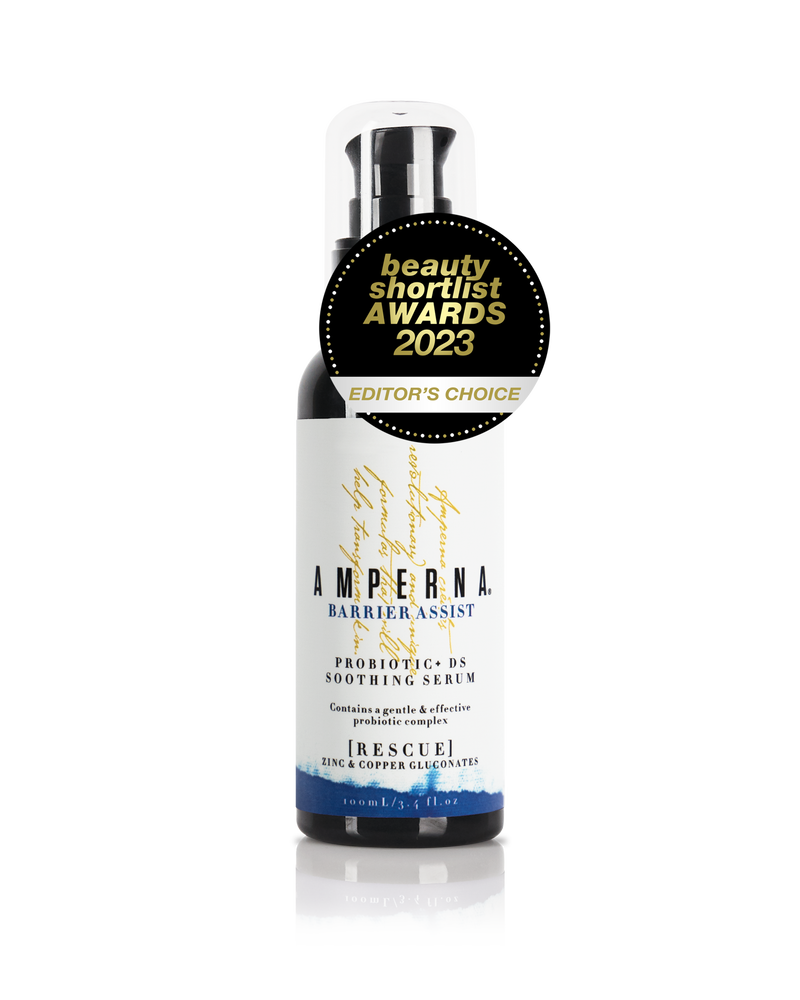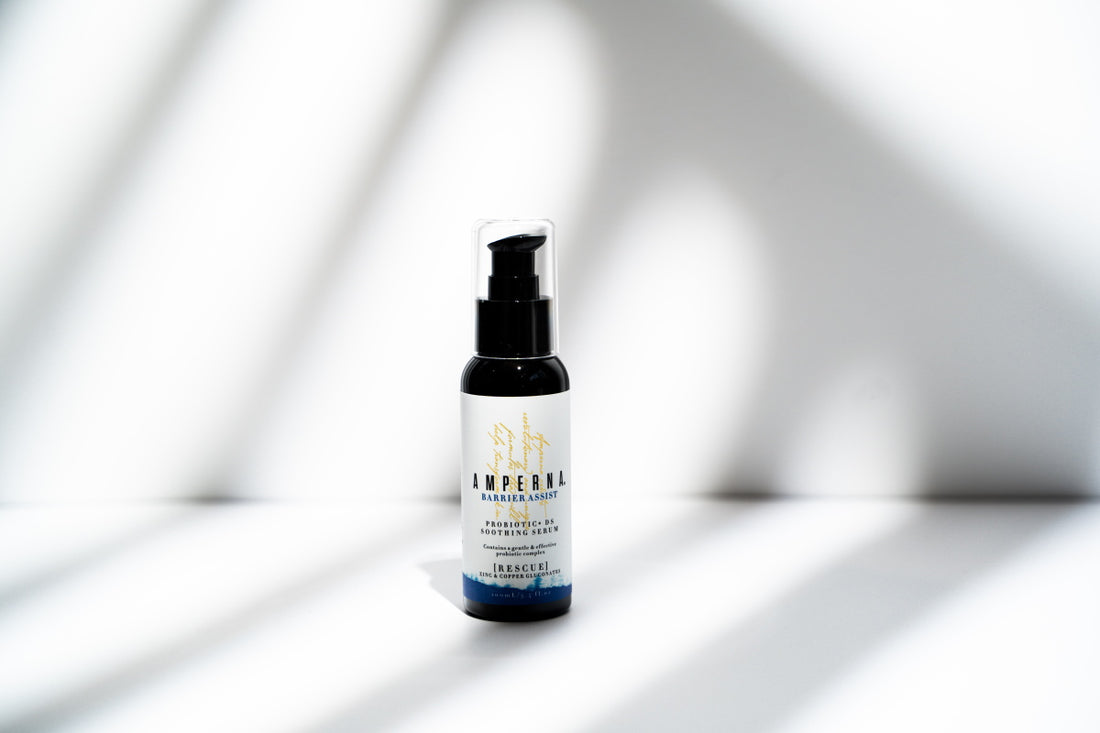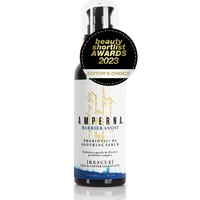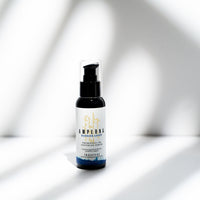 [RESCUE]
Probiotic+ DS Soothing Serum 100ml
Size: 100mL
This deeply restorative formula cools and helps soothe irritated skin and calm redness. The copper and zinc gluconates help to limit the spread of harmful bacteria and replenish the skin barrier.
Our Probiotic+ DS Soothing Serum has been tested on rosacea redness with positive results.
Also available in a 50ml size here
AMPERNA® Probiotic+ DS Soothing Serum [RESCUE] is a deeply restorative formula that helps cool and soothe irritated skin and calm redness. The copper and zinc gluconates help to limit harmful bacterial proliferation and replenish the skin barrier. AMPERNA®'s unique probiotic complex delivers good bacteria to your skin gently and effectively. The AMPERNA® range is suitable for all skin types and has been tested on eczema, dermatitis, perioral dermatitis, rosacea and acne prone skin.
Non-comedogenic. No nasties, tested on real people, Australian made and owned.
Need more help using AMPERNA® products? Visit our detailed regime page to download instructions for your bathroom.
Take 1-2 pumps of the serum and gently pat onto face and/or body. Apply morning and night or as needed. For targeted treatment, apply to problem areas three times a day.
Caution - For topical external use only. Avoid direct contact with eyes and broken skin. Everyone's skin is different so we recommend you undertake a spot test in a small, discreet area to test for adverse reactions. In the rare event of an adverse reaction discontinue use.

Store below 30ºC out of direct sunlight.

Need more help using AMPERNA® products? Visit our detailed regime page.
Aqua, Cyclopentasiloxane, Lactococcus Ferment Lysate, Sorbitan Stearate, Glyceryl Stearate, PEG-100 Stearate, Urea, Magnesium Aspartate, Sodium Polyacrylate, Dimethicone Crosspolymer, Panthenol (Vitamin B5), Titanium Dioxide, Sodium Lauroyl Lactylate, DMDM Hydantoin, Allantoin, Caprylic/Capric Triglyceride, Sodium Hyaluronate (HMW), Menthyl Lactate, Polysorbate 20, Salvia Officinalis (Sage) Oil, Sodium Lactate, Zinc Gluconate, Ceramide 3, Ceramide 6 II, Phytosphingosine, Cholesterol, Xanthan Gum, Copper Gluconate, Carbomer, Iodopropynyl Butylcarbamate, Ceramide 1, Potassium Hydroxide.
Does not contain any live cultures.
Rest assured, AMPERNA® products include high percentages of actives so you can feel confident you are doing the best for your skin.
Does not Include Sulfates, Parabens, Petrochemicals and Mineral Oils, Vinyls, Phthalates, Phenoxyethanol, Synthetic Fragrance, Synthetic Colours or Bleaches, PPG, DEAS, TEA, Aluminium or Alumina.
Ingredients Explained
Ceramide 3, Ceramide 6 II, Ceramide 1, Phytosphingosine, Cholesterol, Sodium Lauroyl Lactylate, Carbomer and Xanthan Gum
all help restore the protective barrier function of the skin; they are ideal for ageing, dry and sensitive skin.
Ingredients Explained
Lactococcus Ferment Lysate
is a non-living probiotic that helps stimulate the skin's renewal processes.
Ingredients Explained
Vitamin B5
is crucial Vitamin for the skin that offers skin conditioning properties. It increases and improves the humidity properties of the skin making dry skin more soft and elastic. It acts as an anti-inflammatory and helps soothe irritated skin and helps with healing of the skin by encouraging the growth of new epithelial cells.
This really, really works
I had PD for 14 months and tried lots to fix it/make it go away. Nothing worked until Amperna. I started off with this and the soothing emulsion. It took four weeks then it started to go. I've now expanded into more of the range and no issues.
Thank you.
Holy grail
I have only just ran out after 3 months. it soothed my peri oral dermatitis and calmed my skin. It's been 3 days since I've used it and I have more acne appear and my skin is red. Off to order more now!
It's made a noticeable difference
I've struggled with perioral dermatitis for over 12 months. My gp prescribed Elidel cream which worked for a while but then I became resistant to it. The soothing serum has consistently reduced the inflammation and bumps on my face and while it's not been an overnight fix it has definitely made a noticeable difference to my skin. Thank you!
Great formula!
As an esthetician and the Skin Care enthusiast thank you so much for making products without phenoxyethanol! So many Brands claim that they have sensitive skin products and include phenoxyethanol and people do not understand that it is an aromatic alcohol and can cause severe damage I am one of those people who suffer from a sensitivity to that thank you so much for understanding the skin!
Disappointed
I am really sorry to say that I am very disappointed with this product, which was recommended to me by a person with prior problem skin. I have rosacea with pustules which unfortunately has spread even further over my face since using this product in May 2023 (for over 3 months). This has been commented on by my family who see me on a regular basis. I have also eliminated certain foods from my diet (dairy, wheat, rice and potatoes) and am taking supplements to no avail!
Hi Dragan,
We are sorry you haven't enjoyed the Probiotic+ DS Soothing Serum.
We note that you ordered this with our Ultra Gentle Soothing Cleanser.
We do suggest you patch test everything before you start:
https://amperna.com/pages/patch-testing-guide
However for flared rosacea, we do recommend starting with our Soothing Duo and cool water only rather than introducing our Cleanser straight away.
There are four subtypes of rosacea:
https://amperna.com/blogs/news/rosacea-understanding-4-types-causes-treatment
It sounds like you could have subtype 2 rosacea.
True rosacea is an immune modulated concern that needs to be managed ongoing. Based, at this time, on medical and scientific research it is thought to result from a combination of immune system dysregulation, abnormal neurologic and vascular signalling and dysbiosis of microorganisms leading to skin sensitivity and inflammation.
So you need to use the right skincare and you also need to avoid all rosacea triggers ongoing - these include psychological triggers, as well as many environmental triggers - not just food triggers. Subtype 2 is also often linked to demodex overgrowth - so a proper diagnosis and a management plan needs to be set in place to help you with this as well.
Kiri helps people with rosacea with our products, but also via holistic coaching:
https://amperna.com/products/holistic-skin-coaching
We are here to help via email (info@amperna.com) before and after your purchase.
AMPERNA® Customer Service