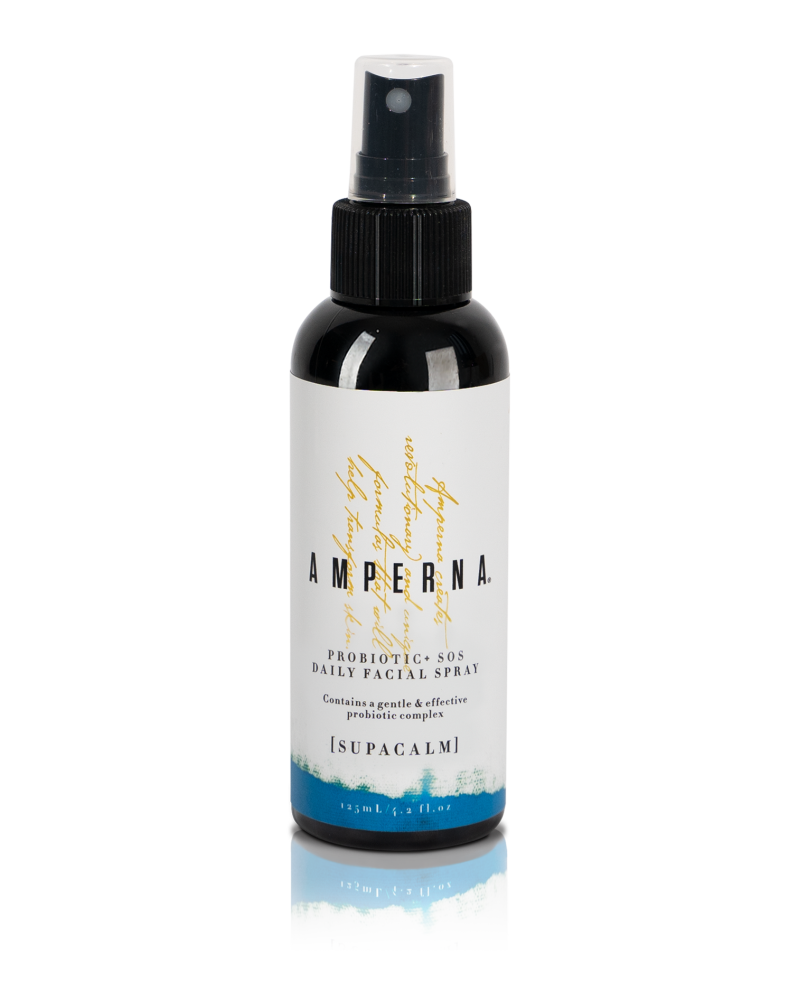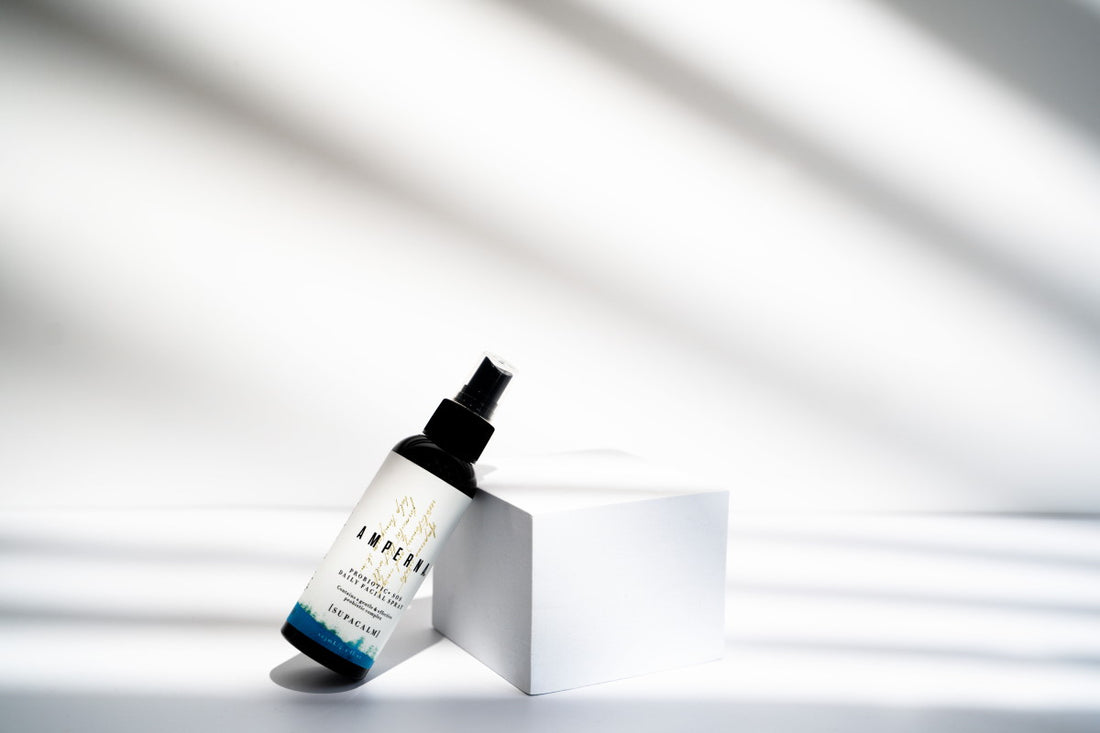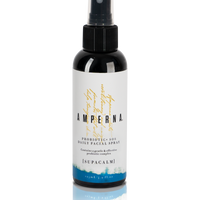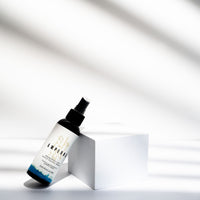 [SUPACALM]
Probiotic+ SOS Daily Facial Spray
Size: 125mL
This light spray formula contains silverion which has antibacterial properties, lactic acid, rice bran extract & colloidal oatmeal which helps calm & soothe.
Do you experience flares on the go? Our Probiotic+ SOS Daily Facial Spray has been tested on rosacea redness with positive results. Can be used instead of a toner.
Probiotic+ SOS Daily Facial Spray [SUPACALM] is a deeply restorative fragrance free formula that helps cool and soothe irritated skin & calm redness. It contains silverion which has antibacterial properties, lactic acid, rice bran extract & colloidal oatmeal to help limit the spread of harmful bacteria and replenish the skin barrier. AMPERNA®'s unique probiotic complex delivers good bacteria to your skin gently and effectively. The AMPERNA® range is suitable for all skin types and has been tested on eczema, dermatitis, perioral dermatitis, rosacea and acne prone skin.
Non-comedogenic. No nasties, tested on real people, Australian made and owned.
Need more help using AMPERNA® products? Visit our detailed regime page to download instructions for your bathroom.
Shake to mix contents well in spray bottle. After washing, lightly spray onto face and/or body. Use clean hands to apply gently & allow to sink in. Make sure spray has absorbed properly before applying your next product. Can be reapplied throughout the day.
Caution - For topical external use only. Avoid direct contact with eyes and broken skin. Everyone's skin is different so we recommend you undertake a spot test in a small, discreet area to test for adverse reactions. In the rare event of an adverse reaction discontinue use.

Store below 30ºC out of direct sunlight.

Need more help using AMPERNA® products? Visit our detailed regime page.
Aqua, Isononyl Isononanoate, Glycerin, Oryza Sativa Bran Oil, Coco-Caprylate, Zinc Oxide, C12-15 Alkyl Benzoate, Lactococcus Ferment Lysate, Beta Glucan, Niacinamide (Vitamin B3), PEG-20 Methyl Glucose Sequistearate, Sodium PCA, Sodium Lactate, Cyclopentasiloxane, Cyclohexasiloxane, Urea, Behentrimonium Methosulfate, Sodium Lauroyl Lactylate, Ceramide NP, Colloidal Oatmeal, Phenoxyethanol, Ceramide AP, Phytosphingosine, Cholesterol, Ceramide EOP, Capparis Spinosa Fruit Extract, Opuntia Ficus-Indica Extract, Olea Europaea (Olive) Leaf Extract, Maltodextrin, Panthenol (Vitamin B5), Isostearic Acid, Polyhydroxystearic Acid, Acrylates/C10-30 Alkyl Acrylate Crosspolymer, Ethylhexylglycerin, Mentyl Lactate, Silver Citrate, Citric Acid, Lactic Acid, Stearic Acid, Bisabolol, Cetyl Alcohol, Xanthan Gum, Carbomer.
Does not contain any live cultures.
Does not Include Sulfates, Parabens, Petrochemicals and Mineral Oils, Vinyls, Phthalates, Synthetic Fragrance, Synthetic Colours or Bleaches, PPG, DEAS, TEA, Aluminium or Alumina.
Ingredients Explained
Silverion
is an antimicrobial based on a stabilised silver ion complex and is effective against unwanted skin bacteria and pathogenic microorganisms.
Ingredients Explained
Lactococcus Ferment Lysate
is a non-living probiotic that helps stimulate the skin's renewal processes.
Ingredients Explained
Colloidal Oatmeal (Avena Sativa Kernel Meal)
is a highly moisturising and soothing ingredient which can help reduce irritation caused by eczema and dermatitis.
BEWARE! Super Red and Irritated, not Super Calm ~ and not just my face
I am newly diagnosed with type 2 Rosacea and have been looking for the best possible products to treat it and try to bring it under control. I initially purchased the Full Range and have been using it for over six weeks, I am not sure the products have helped, but they did not worsen my condition so I planned to continue using them while making other lifestyle changes. I placed another order for more of the Balance and Rescue and added this new Daily Spray. Unfortunately, my reaction to this new "super calming" product was to become VERY RED and VERY IRRITATED within minutes. This was disappointing. But when I contacted Customer Service I was told there was nothing they could do for me. I understand they have a no return policy but I didn't change my mind, or not like the scent, I CANNOT USE THE PRODUCT. And to keep me as a satisfied customer you would think they would say, "We're sorry this product didn't work for you, here's a discount on your next order". But no, so now I am red and irritated in a different way. Not only will I not be recommending Amperna to others, but I will find another product line and they lost a customer.
Hi Meredith,
I am sorry you have not enjoyed the Probiotic+ SOS Daily Facial Spray and you are upset with the way we have handled your email asking to return the product.
We always suggest you patch test properly as per our Patch Test Guide:
https://amperna.com/pages/patch-testing-guide
We are unable to take the product back as per our returns policy because you have used the product I am sorry:
https://amperna.com/pages/returns-and-exchanges
Our terms and conditions are here:
https://amperna.com/pages/terms-and-conditions
Both these policies were available to you before you ordered.
We have our terms & conditions policy in place and patch testing guides to help you, because although we help people with different skin concerns, every skin is different and anyone can be allergic to anything.
We provide as much information as possible on our website, we provide our full ingredients lists, we provide a patch test guide and we are also here to email or DM with any questions you have before you order.
We help people with their Rosacea with a simple regime - usually our Soothing Duo and cool water only to start with as well as a coaching session with me as true rosacea is an immune modulated concern that needs to be managed ongoing. Based, at this time, on medical and scientific research it is thought to result from a combination of immune system dysregulation, abnormal neurologic and vascular signalling and dysbiosis of microorganisms leading to skin sensitivity and inflammation.
I am more than happy to offer you some points as credit towards a future order, so you can continue to use the right products for your skin.
Please sign up to our inner circle here:
https://amperna.com/pages/rewards
And let me know when you have joined.
I am always here via info@amperna.com to help you further if you would like to share photos of your skin so I can recommend the right regime of products for you based on the AMPERNA product you currently have,
Kiri
AMPERNA Founder & Holistic Skin Health Advocate
Fabulous product!
The Probiotic + SOS Daily Facial Spray has been a fabulous addition to my skincare routine. I use it alongside the Soothing Duo, and it's especially helpful when I'm on-the-go! When I first was introduced to this product, my skin was very inflamed due to perioral dermatitis, and I was hesitant to add an additional product to my skincare regime. After the Soothing Duo began to heal my skin, I learned to incorporate the Probiotic + SOS Daily Facial Spray into my routine. Now it's become a favorite! It is gentle and cooling and has a mild, pleasant scent. Another Amperna product that I am so grateful for--thank you!
Lifesaver for my sensitive skin
I have been using the Probiotic+ SOS Daily Facial Spray for almost 2 months now what can I say this product is truly remarkable and nothing like I have ever used before. As soon as I apply it to my sensitive skin it instantly calms the redness on my cheeks and gives it a cooling effect. I also love that is fragrance free and free of any nasty ingredients that can irritate my skin. I keep it in the fridge as suggested by Kiri especially in this hot Sydney weather we have been having lately.
Thank you, Kiri, for formulating such a great product.
It's the best.
I love this spray. Helps me feel fresher and calms down my POD so easily. I cannot think I used to live without it. For everyone struggling with POD it's a no brainer.
Another amazing product!
I added this product to my Amperna obsession about 6 weeks ago. I started using the range to heal my PD which I had been suffering from during pregnancy, now I just use it as my chosen skin care. The spray is so calming, fabulous when I have a PD flare or after I have been in a chlorine pool (which is something that really upsets my skin) it's instantly calms my skin and takes the redness out of it. Highly recommend it and all there other products too btw!