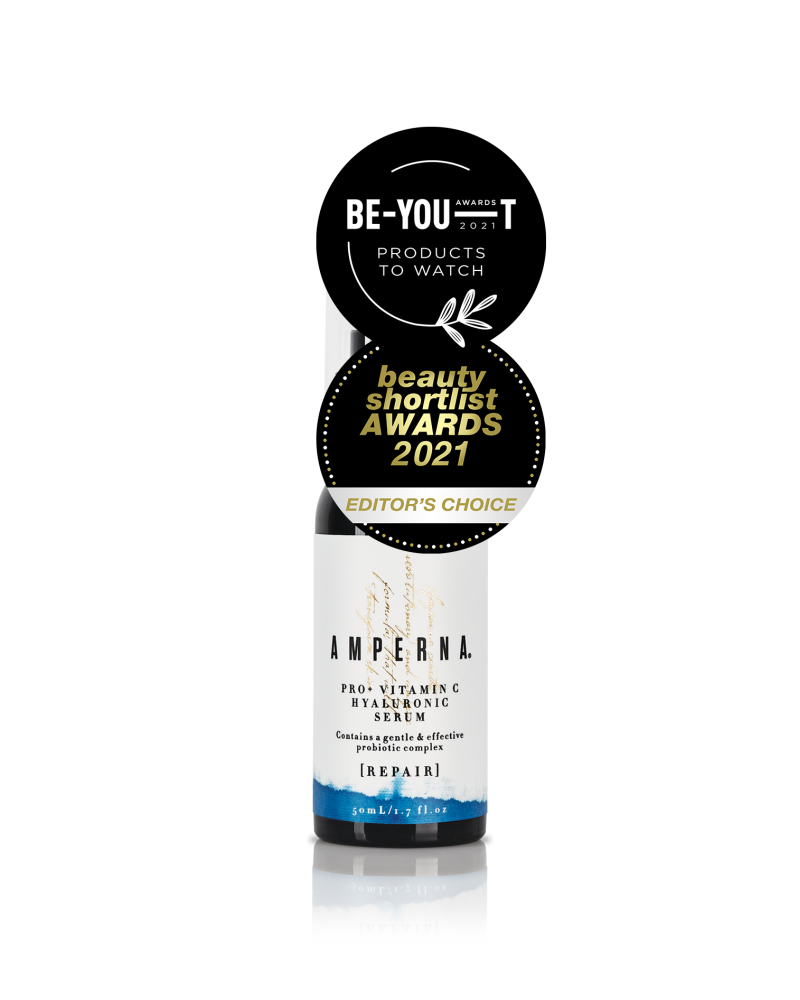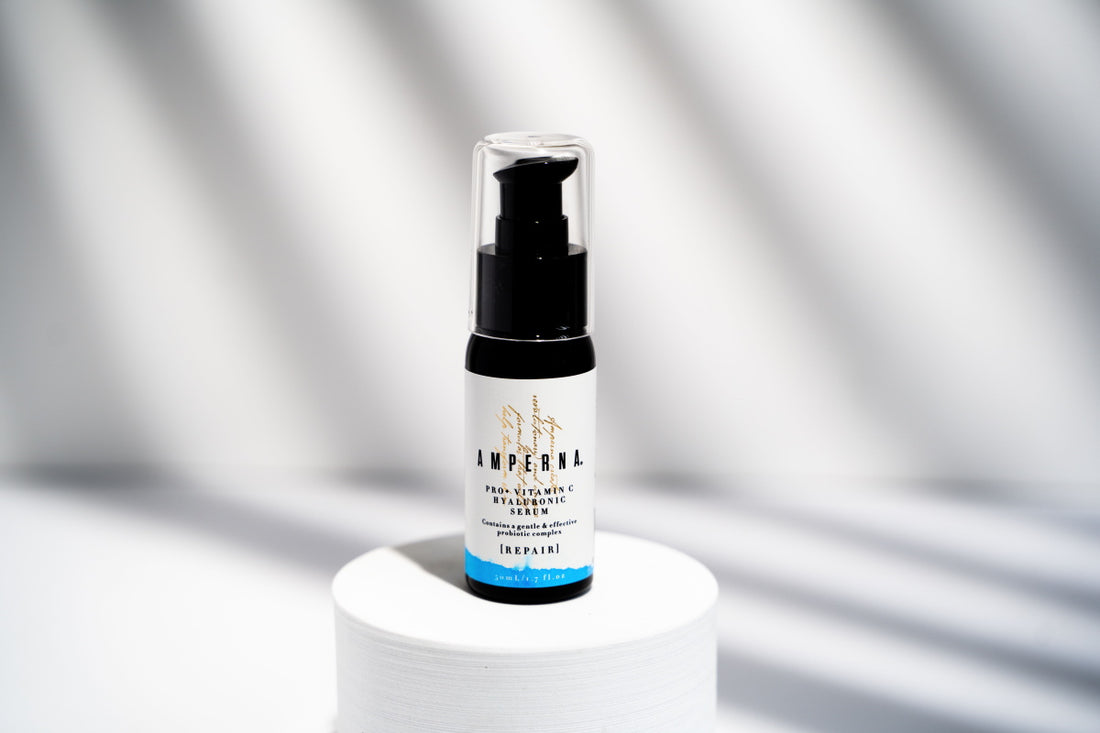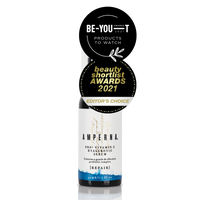 [REPAIR]
Pro+ Vitamin C Hyaluronic Serum
Size: 50mL
This potent, deeply hydrating serum helps soothe the skin while targeting dullness, uneven skin tone, wrinkles and fine lines.
Our Pro+ Vitamin C Hyaluronic Serum contains high levels of hyaluronic acid and antioxidants to help restore smoothness & suppleness to your skin. Does not contain Butylene Glycol.
AMPERNA® Pro+ Vitamin C Hyaluronic Serum [REPAIR] is a deeply hydrating formula that helps create a more youthful-looking complexion. This potent serum contains a combination of Vitamin C and Hyaluronic Acid to helps soothe the skin and target dullness, uneven skin tone, wrinkles and fine lines. AMPERNA®'s unique probiotic complex delivers good bacteria to your skin gently and effectively. The AMPERNA® range is suitable for all skin types and has been tested on eczema, dermatitis, perioral dermatitis, rosacea and acne prone skin.
Non-comedogenic. No nasties, tested on real people, Australian made and owned.
Need more help using AMPERNA® products? Visit our detailed regime page to download instructions for your bathroom.
Take 1-2 pumps of the serum and gently pat onto a clean face, neck and décolletage. You can apply this hydrating serum before or after our Lightweight Soothing+ Emulsion.
Caution - For topical external use only. Avoid direct contact with eyes and broken skin. Everyone's skin is different so we recommend you undertake a spot test in a small, discreet area to test for adverse reactions. In the rare event of an adverse reaction discontinue use.

Store below 30ºC out of direct sunlight.

Need more help using AMPERNA® products? Visit our detailed regime page.
Aqua, Cyclopentasiloxane, Cyclohexasiloxane, Lactococcus Ferment Lysate, Sorbitan Stearate, Niacinamide (Vitamin B3), Sodium Ascorbyl Phosphate (Vitamin C), Glyceryl Stearate, PEG-100 Stearate, Sodium Polyacrylate, Urea, Ceramide 3, Ceramide 6 II, Ceramide 1, Phytosphingosine, Cholesterol, Sodium Lauroyl Lactylate, Dimethicone Crosspolymer, Sodium Hyaluronate (HMW), Panthenol (Vitamin B5), Allantoin, Menthyl Lactate, Sodium Lactate, Salvia Officinalis (Sage) Oil, Polysorbate 20, Carbomer, Xanthan Gum, DMDM Hydantoin, Iodopropynyl Butylcarbamate, BHT, Lactic Acid.
Does not contain any live cultures.
Rest assured, AMPERNA® products include high percentages of actives so you can feel confident you are doing the best for your skin.
Does not Include Sulfates, Parabens, Petrochemicals and Mineral Oils, Vinyls, Phthalates, Phenoxyethanol, Synthetic Fragrance, Synthetic Colours or Bleaches, PPG, DEAS, TEA, Aluminium or Alumina.
Ingredients Explained
Hyaluronic Acid
helps restore smoothness and elasticity of the skin. It helps replenish the moisture that is crucial to younger-looking, supple skin.
Ingredients Explained
Lactococcus Ferment Lysate
is a non living probiotic that helps stimulate the skin's renewal processes.
Ingredients Explained
Vitamin B3
is acts an anti-inflammatory, skin-whitening, and energizing agent.
Wonderful!
Brightened my skin so much! I use this in combination with the moisturizer and they are a powerful pair! I have always STRUGGLED with dry skin especially in winter. I used to even get dry "spots". Not once since starting!
Has made my skin clearer & smoother
I had PD until Amperna & was hesitant about trying a broader range however as Kiri tries everything herself I was open to giving this ago. So glad I did as the long lasting product has definitely made a difference. I do not find it drying.
Very happy with all the Amperna range.
Thank you Kiri.
Mature skin
Having mature skin at 71 years of age, but having inherited good genes from my British ancestry, this product, plus the cleanser & hydrating lotion, is helping me keep my skin healthy and smooth with no worries about adverse reactions. My skin is sensitive to rosacea and redness, and I find the Rescue lotion excellent to help keep it under control. I am very, very happy with Amperna products.
LOVE THIS
My daughter recommended this to me. This is best Vitamin C I've come across. So gentle, does not irrirate. It literally glides on to the skin. I like slow and steady gentle results and it's helping me get rid of some hyperpigmentation on my cheeks. Will defo be a staple in my everyday routine.
Perfect glow-up when skin is not flaring
I had been giving up on finding a Vitamin c option I could use and took a guess this might work after good success with the soothing duo. When my rosacea or dermatitis flares I switch this out for the soothing serum but regardless use the emulsion over top every morning.
More Information About AMPERNA® Pro+ Vitamin C Hyaluronic Serum
AMPERNA® Pro+ Vitamin C Hyaluronic Serum works to deeply hydrate your skin, helping to create a more youthful-looking complexion.
Need Help with Uneven Skin Tone, Wrinkles and Fine Lines?
Our active serum with hyaluronic acid, probiotics and vitamin C works hard to target dullness, wrinkles, fine lines and uneven skin tone. If your skin is in need of some serious TLC, this product is perfect for you.
How does Hyaluronic Acid Help?
As we get older, our skin is less able to hold moisture naturally, that's why our skin starts to lose firmness and that youthful, plump look. Hyaluronic acid has the ability to draw in and hold substantial amounts of moisture; hence it's a fantastic ingredient for serums aimed at targeting ageing as it can help to promote a more youthful looking complexion.
The Benefits of Vitamin C
The antioxidant properties of vitamin C (ascorbic acid) and its role in collagen synthesis make vitamin C a vital molecule for skin health. Dietary and topical ascorbic acid have beneficial effects on skin cells, and some studies have shown that vitamin C may help prevent and treat ultraviolet (UV)-induced photodamage.
Our Unique Probiotic Ingredient
AMPERNA® Pro+ Vitamin C Hyaluronic Serum is not only packed with great ingredients that hydrate and soothe your skin, but contains our unique probiotic complex. This ingredient delivers good bacteria to your skin. It helps protect against premature ageing and assists with improving both the skin renewal processes and the processes involved in the skin's adaptation to negative influences.
Find out more about our ingredients.
What's the Best Way to use AMPERNA® Pro+ Vitamin C Hyaluronic Serum?
Take 1-2 pumps of the serum and gently pat onto a clean face, neck and décolletage.
It's great to use both morning and night and should be applied after cleansing but before moisturiser.
What we don't Include
These days we're all a lot more savvy about the products we use and the food we eat. We spend a lot of time looking after our minds and bodies and we want to be sure that we're using products that contain only the best ingredients. At AMPERNA® we pack our products full of beneficial elements, all of which serve a specific purpose towards making them simply effective. AMPERNA® products are also defined by what we don't include.
We never use sulfates, parabens, vinyls, phthalates, synthetic fragrance, synthetic colours or bleaches, PPG, DEAS, TEA, aluminium or alumina. Many of these ingredients can irritate already sensitive skin and let's face it, who wants to put a cream onto their body that does more damage than good?
AMPERNA® is Cruelty Free
All of our products are tested on real people with real skin concerns, not on animals. That means you can feel even better about using them.

Find out the best products for your specific skincare regime based on your skin type or concern.